It's that time of year again! You've likely seen the reminders in your email and social media feed. You may have even gotten a call —or two–or text message reminding you that open enrollment was here. But, life got in the way and you missed it. Or perhaps when you researched and the premiums seemed higher than you were wanting. No matter the reasons – you went back to finish your application to find that the deadline had passed!
At McKnight & McKnight Insurance, we understand that you were well-intentioned and that you wanted to sign up for a health insurance plan this year. So now what? Don't worry; you don't have to go without coverage. You still have options to get the coverage you need year round!
Missed Open Enrollment: Possible Qualifying Events
Open Enrollment is the limited time in which you can enroll in, opt-out of, or make changes to your health insurance. It is usually 45-days (November 1– December 15). Plans purchased during Open Enrollment start on January 1 of the next calendar year.
If you work for an employer with more than 50 employees that offers health insurance, they must have an annual open enrollment period. The Affordable Care Act (ACA)/Obamacare marketplace exchange and off-exchange major medical insurers also have a yearly open enrollment period.
If you miss open enrollment, you will be unable to enroll in ACA-compliant health insurance until the next open enrollment period unless you have a qualifying event including:
Loss of health coverage (i.e. employer-based or individual/family plan, turning 26 and losing coverage, etc.)
Changes in household (marriage, divorce, new baby/adoption, death in family)
Change in residence (change in zip code, etc.)
This generally applies whether you're getting insurance through an employer (or your spouse's) or the health insurance marketplace.
Schedule your phone appointment with Bob & Heather McKnight to quickly learn your options if you missed open enrollment. We can help you find coverage year round.
I Missed Open Enrollment. Can I Still Get Health Insurance?
If you missed the open enrollment window, and you need health insurance, you still have options. You may qualify for Medicaid or CHIP (Children's Health Insurance Plan) and can enroll at any time.
For those who don't qualify, your options include non-ACA plans, short-term health insurance, and supplemental insurance. Including accident insurance, critical illness plans, or limited indemnity medical. These plan types allow for year-round enrollment and can generally provide coverage almost immediately.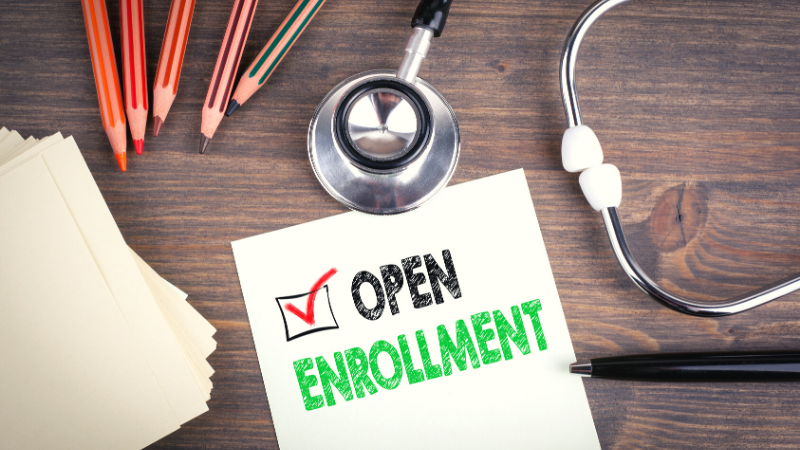 Insurance Options Outside of Open Enrollment
Short Term Health Insurance
This is most similar to major medical insurance offered by employers or the exchange. Coverage can include:
Doctor's office visits
Urgent care
Emergency room visits
In- and/or out-patient surgery
Wellness and preventative care
These plans cover several key medical benefits. However, they have a wide range of deductibles, coinsurance levels, co-payments, and terms. As health insurance brokers, we can quickly help you can customize a plan that fits your budget and personal health needs.
Limited Indemnity Insurance
Limited Indemnity insurance plans pay a fixed benefit amount directly to you. These plans are known for flexibility, which allows you to choose your own doctors and hospitals. This coverage option generally will include doctor's office visits, surgical procedures, hospital stays, ambulance rides, and emergency room visits. Wellness and preventative care may also be covered.
Accident and Critical Illness Insurance
If you miss open enrollment, you may want to at least consider having accident or critical illness insurance. Accidents happen, and these plans are generally very affordable options.
Accident insurance coverage generally pays an accidental death benefit and may include unexpected, accident-related medical expenses. Critical illness plans usually will common critical illnesses like cancer, heart attack, and stroke. These are both good options to help have peace of mind until the next open enrollment period begins or you have a qualifying event.
Keep in mind: short term and supplemental insurance coverage are not ACA-compliant. Therefore, they are not required to cover the 10 essential health benefits mandated by Obamacare. They may exclude pre-existing conditions and may require you to answer health questions for underwriters to approve.
Know Your Options Outside of Open Enrollment
It's okay that you missed open enrollment. Our team can help you find the health insurance coverage until the next open enrollment period.
Need help finding health insurance? At McKnight & McKnight Insurance, we're keeping the promise of affordable coverage with simple, fast and friendly insurance solutions. Call today or schedule your phone appointment online. In just a few minutes, we can discuss your options outside of open enrollment.